The PowerShell Get-WindowsFeature command—or, more properly, cmdlet—can retrieve a list of Windows features, including server roles, that are installed on a server or workstation running Windows, making it a handy tool for server admins.
Learning about it can point up its value and how a broader knowledge of PowerShell commands may lead to more efficient administration of Windows servers.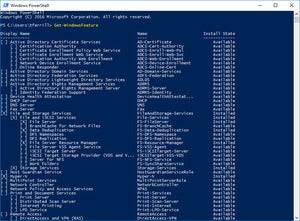 By default, the output of the Get-WindowsFeature cmdlet provides something of a hierarchical view with individual features having boxes checked or not depending on their installation status. (Click to expand the image at left.) This is great for quickly eyeballing a single server to get an idea of what functions it provides, but as the list contains upwards of 250 roles and features, it starts to lose practicality when you are looking for a specific set of features or want to inventory multiple servers in a single pass.
Thanks to Tim Ferrill (see
source
)