Spectrum customers who thought Time Warner Cable sent out too much junk mail now regret criticizing their old cable company.
"I have really come accept the truth," writes Stop the Cap! reader Dustin Hedges. "There are worst cable companies than Time Warner Cable and Charter Spectrum is one of them."
Hedges is tired of the relentless junk mail he receives every week from the cable company, primarily to advertise cable television.
"I cut the cord with them for a reason: they cost too damn much and considering all of the mailers they are sending me, I can now see where some of my cable dollar used to go," Hedges tells us. "Some of them look like urgent notices about a late bill or claims to contain 'important information' about my account, which could mean another damn rate increase, but no — it is just another advertisement for their TV service I quit last year."
Hedged ditched cable television after Spectrum converted to an all-digital format, requiring customers to start leasing cable boxes on their extra televisions.
"I tried the Roku route and didn't like it because it took too long to change channels and it often buffered or ran 2-3 minutes late, meaning other things I might want to watch I would miss the start of because the Roku app made me late," Hedges complains. "What really ticked me off is that they keep raising the cost of the box rental and the boxes they are giving out now are cheap garbage. They don't even have a clock on the front anymore. My bill would have gone up $35 a month. I cancelled."
Today, Hedges is a Spectrum internet-only customer, and thinks Spectrum does not appreciate the business he still gives to them.
"I pay these crooks $65 a month for internet service, when I used to pay Time Warner Cable less than $50, and they are still not happy about it," Hedges complained. "They constantly send me TV offers for 10 channels, 25 channels, or to go right back to regular cable TV where I can fall for the same trap of low prices to start and boom stick to it you with regular pricing later on. I don't watch it, I tell them I don't want it, and that they can save everyone's money by not sending me this junk mail. They tell me they won't stop the mailers."
Indeed, Charter Spectrum's customer mailing policy indicates they do reserve the right to market existing customers additional products and services at any time. If a customer has a triple play package, they rarely receive anything from the cable company, at least until recently when Spectrum Mobile started a big marketing campaign. If one drops TV and/or phone service, the junk mail will soon grace your mailbox. By far, most mailers concern TV service. Spectrum markets cable cord-cutters and cord-nevers slimmed down packages delivered over their Spectrum internet connection. Occasionally, the company will also remind customer landline phone service is also still available, typically for around $10 a month. When Time Warner Cable pushed its Intelligent Home security service, those mailers were a common sight to many customers. Charter Communications has no interest in the security monitoring business, so although it maintains service for existing customers, it no longer markets Intelligent Home to attract new ones.
But we have good news for Mr. Hodges and other customers looking for a possible opt out path for junk mail, sales calls, and worst of all – door knocking sales teams. Charter Spectrum maintains an online privacy preferences form that should eventually stop marketing mailers for other products and services, including cable TV. Just click on the pertinent image(s) to be taken to their respective web pages, complete and submit the forms, and your mail volume should drop.
Legacy Time Warner Cable CPNI Opt-Out Form (only for use by customers still holding on to their old Time Warner Cable packages.)
Legacy TWC customers should also fill out the Privacy Preferences form: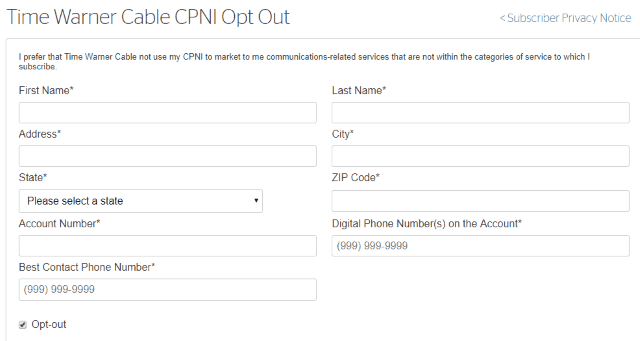 Charter/Spectrum and Legacy Time Warner Cable/Bright House Customers
Privacy Preferences:
A YouTuber produced this rant about endless junk mail from Spectrum. (11:46)
Related
Thanks to Phillip Dampier (see
source
)